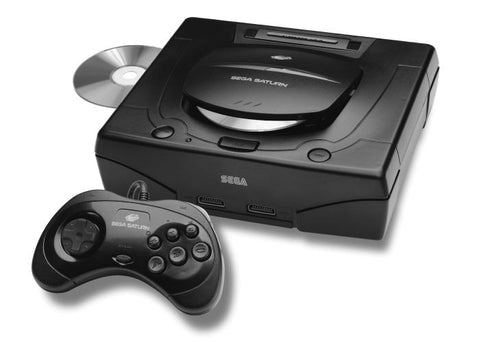 Sega Saturn Information
Sega Saturn games 
Sega Saturn games checklist Pal
Sega games Saturn History
The 32 bit console fifth-generation home video games system developed by Sega and released on November 22, 1994 in Japan, May 11, 1995 in North America, and July 8, 1995 in Europe. The successor to the successful Sega Mega Drive, the Saturn has a dual-CPU architecture and eight processors. It is well known for its arcade ports to the console and the 3d based games. The Console was ahead of its time and it was a shame it was discontinued in 1998.
Games including the likes of virtua fighter 2 fighting games released, Daytona USA and Sega rally championship still have fans chomping at the bits today. Then you have the Shooters Like virtua cop 1+2 and the house of the dead loved by fans everywhere especially good if you use the light gun. 241 Games were released in the pal region for the console.
It is a great set to collect for with every game easily found panzer dragoon saga will set you back the most at between £300-£500 depending on condition. 
 Sega Saturn Games cases
Sega Saturn video Game came in 2 case versions the gen 1 where the outer cover is printed cardboard, and gen 2 which were plastic cover cases like the Mega Drive with an internal paper sleeve. A selection of the Sega Saturn Games came in both Gen 1 and gen 2 case types it is worth noting that the Gen 2 versions will always be more expensive. The pal style of dvd based case is much better looking than the Japanese standard cd case and the American long box case.
Difficult to find Sega Saturn games
Street fighter alpha warrior
Street fighter alpha warrior 2
The Sega Saturn has a cult following for the RPG's released on the console With the likes of the Panzer dragoon series + Dragon force. Across the Pal region we only got one of the Shining force iii chapters, But we did get Shining the holy ark and Shining wisdom. Even though only released in Japan if you love Shining force iii then you must look at chapter 1 + 2.
Pal conversions of Japanese games can be found online with translations. Nights into dreams brought the arrival of the Sega Saturn 3d controller which is a great experience to play, the follow up Christmas nights was issued with a magazine.
Beat em ups like guardian heroes, allowed lots of friends to play with the use of the Saturn's Multiplayer adapter.
Personally Three dirty dwarves is my favourite beam em up on the console, I have special memories playing Guardian heroes with my friends spending many late nights gaming.
The Saturn's controller was really good for fighters with its 6 buttons and larger size than the mega drive 6 button controller.