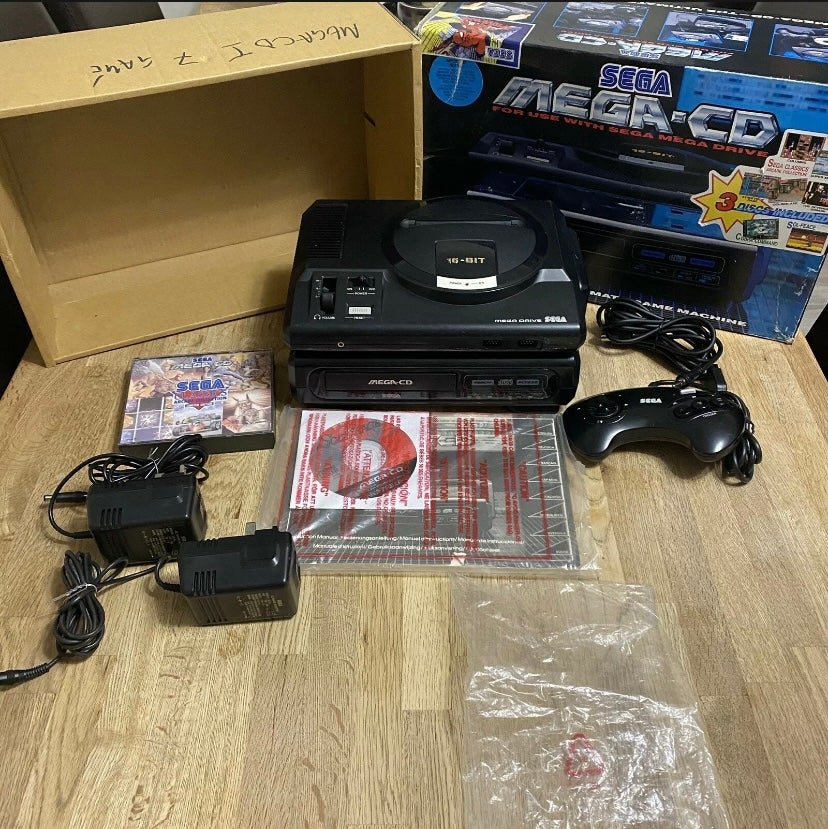 Sega Mega Cd Is It Worth Buying One?
You're probably wondering, 'Is the Sega Mega CD worth buying?' Well, you've come to the right place.
This iconic gaming console was a major player in the 90s and still holds a nostalgic appeal for many gamers today. Throughout this article, we'll delve into its historical background, analyse its pros and cons, highlight some of its most remarkable games, and compare it with other alternatives in the market.
You might be an avid gamer looking for a retro experience or simply trying to build your collection. Whatever your reasons are for contemplating this purchase, we aim to provide an informative yet subjective analysis that will help guide your decision.
So buckle up as we embark on this journey through time exploring one of Sega's notable consoles - The Sega Mega CD!
Historical Background of the Gaming Console
Believe it or not, the Sega Mega CD, launched way back in 1991 in Japan and then later in other parts of the world, was Sega's first attempt at a home console with CD-ROM capabilities! This marked an important step in console evolution. It was a bold move by Sega that showcased their innovation and influence on the gaming industry.
With this console, they aimed to bring arcade-quality games into homes while also offering multimedia applications, including audio CD playback. However, its high cost and limited game library made it less successful than hoped for. Nevertheless, it's worth noting that this platform laid the groundwork for future consoles with disc-based systems.
Now let's delve deeper into an analysis of its pros and cons to determine if it's worth your investment today.
Pros and Cons Analysis
You'll want to weigh the pros and cons carefully before diving into this investment.
On the upside, Sega Mega CD's hardware durability is impressive. The device is built like a tank and can withstand countless hours of gaming sessions with minimal wear and tear. If you're a collector or an old-school enthusiast, it's also oozing with nostalgic charm.
However, there are drawbacks. Price justification becomes an issue as compared to modern consoles, Sega Mega CD isn't exactly cheap. It requires you to shell out significant bucks for something that might not offer the same level of enjoyment as current generation consoles.
Overall, it depends on what you value most in your gaming experience.
Now, let's take a closer look at some noteworthy games that could tip the scales in favor of owning one.
Review of Noteworthy Games
Don't underestimate the power of nostalgia, as diving into the classic games from this iconic console can reignite your passion for gaming in ways you never thought possible. The Sega Mega CD offers a plethora of noteworthy titles that showcase innovative gameplay mechanics and an impressive evolution in graphics.
Take 'Sonic CD,' for instance. It boasts unique time-travel mechanics and vivid visuals that were ahead of their time. Sonic cd utilises lots of the onboard memory for save game file.
Then there's 'Snatcher,' a cyberpunk adventure which features complex storylines and immersive audio-visual effects, exemplifying graphic evolution at its finest with full motion video.
However, remember not all games are created equal; some may feel outdated or lacking in depth compared to modern standards. But if you're a retro gaming enthusiast, these quirks might just add to the charm.
Next up, let's delve into how this console stacks up against other vintage options on the market.
Comparing Alternatives
When it comes to comparing the Sega Mega CD with other retro consoles, it's like stepping into a time machine and exploring an era of gaming that truly laid the groundwork for today's industry. Price-wise, you may find the Sega Mega CD slightly more expensive than its competitors due to its rarity and unique library of games. However, when considering console longevity, the robust build quality and dedicated support by devoted fan communities make it a smart purchase.
On one side, cheaper alternatives exist such as the SNES or Game Boy which offer their own exceptional game collections. But none bring along quite the same nostalgia factor as this gem from Sega does. The fact it was an add on for the Sega Mega Drive the cd technology being utilised in mega cd titles was not great. The games have a history of issues with Disc rot being a fear factor for collectors of mega cd games. A few games with silver colouring to the disc like shining force cd and the terminator seem to suffer. Unlike the robust mega drive games many sega cd games have that risk of deterioration. That said the system produced some great games, Like eternal champions, mortal kombat, Final fight cd, sonic cd, Snatcher and the controversial night trap. The American market with the sega cd games had a much larger library including the likes of lunar games, space harrier. Sonic cd was the only game on the sega mega cd that sonic the hedgehog appeared on. Unlike the Master system, sega mega drive and game gear where sonic the hedgehog had multiple titles released.
Now, before you rush out to buy a piece of gaming history, let's delve deeper into making your final decision.
Making Your Final Decision
So, you're ready to make your final choice, huh? Let's dissect this decision with some critical points to consider.
First, think about your budget considerations. The Sega Mega CD isn't the cheapest retro gaming console on the market. It may be a nostalgic piece of hardware, but it comes with a hefty price tag. If you're looking for cost-effectiveness and primarily gameplay experience, modern alternatives can provide more bang for your buck.
However, if you're an avid collector or a hardcore Sega enthusiast, the collector's value of a Mega CD might make it worth the splurge despite its shortcomings. Owning one is like owning a piece of gaming history that gives you bragging rights among other enthusiasts. Just remember: ultimately, your purchas