Pokemon xd gale of darkness
nintendo gamecube
complete with manual - manual has small crease to bottom right hand corner
disc in good condition also
Pokemon xd gale of darkness
Is the final Pokémon game for the Gamecube there were 2 released in total. It is an RPG that features a quick battle mode it also has a new story mode set in the orre region. The XD stands for Extra Darkness. Fans believe Pokemon coliseum to be the better of the 2 Pokemon games released on the gamecube. 
There was a limited edition console pack released with the game in the European region which came with an platinum console, controller and the game. In North America the pack cam with the indigo console. Both variants had a sleeves for the box, The artwork on it is really great and a must for any collector. The game has now reached 3 figures to purchase and is getting rarer as Pokemon and gamecube collectors get it in their sights for there collection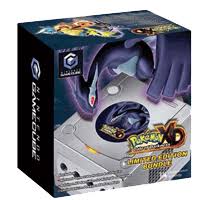 Pokemon xd gale of darkness is the most expensive Pokemon game released for the gamecube. If you are buying the game it originally cam with the disc, Manual, vip card and box, It was one that was also Red Strip sealed by Nintendo. It is possible to use the gameboy advance link cable and transfer your Pokemon From Emerald, Ruby, fire red etc , So they could be used with the new game, This gives a real purpose to all the work you put in on the other console games. 
Giving your previously caught Pokemon a new lease of life.
Over all Pokemon xd gale of darkness is a must for any fan of the series, It's value is set to continue to rise over time so make sure you get it in your collection.